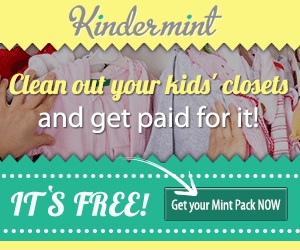 Clean out your kid's closets and get paid for it with Kindermint!
Order a FREE Mint Pack from Kindermint (arrives in 2-4 business days)
Stuff the MINT PACK full of kids clothes you wish to sell.
Drop the

Pre-Paid

MINT PACK in the mail (UPS or USPS) or just hand it to your mailman!
Cash in! Your choice of check or deposit to your PayPal account.
This is a great way to earn some extra cash on the clothes your kiddos have outgrown! I signed up to send in my granddaughter's clothes. You do pay $4.95 for the Mint Pack BUT you get 100% of that back when you send in your first package. They do this to reduce waste and so people don't request the packs and never return them!

Go HERE For Details (it's completely free to login and check it out)

This post may contain affiliate links.