My hubby and I…at Disney of course
Thank you for visiting Saving Everyday. My name is Andrea and I'm a mom, wife, foodie, animal lover, pasta/coffee addict & Disney Freak!! I am happily married and the proud mom of four children. My son is in the military, just returned from Afghanistan and is stationed in Colorado. My daughter is in college and lives at home, and my two step-daughters live in Maryland. I've been married to my sweet husband for 16 years and strive to be a good wife to him everyday.
I live by the motto "A penny saved is a penny earned" and use coupons everywhere…grocery stores, drug stores, at the mall, online, restaurants, etc… It never ceases to amaze me how much money you can save. I launched Saving Every Day because I needed an outlet…a place to share my deals and connect with others who had the same passion. Plus, I don't think my poor husband could have listened to anymore of my coupon stories
 What started as a hobby quickly grew into so much more. I couldn't be happier, or feel more blessed, by how quickly our community has grown. I love waking up each day, reading my emails from all of you, and finding all of the latest deals, coupons and freebies!
I try to live as healthy as possible. This includes cooking, lifestyle, and the things I buy. People ask me all the time if all I eat is packaged food (a common "coupon misconception") and the answer is NO! You CAN eat healthy and organically on a budget, so I post a lot of healthy deals and recipes. Speaking of recipes, I love to cook, so be sure to check out the recipes category of the site.
My family also LOVES Disney World!! We go nearly every year and I'm constantly asked how I can afford it. My frugal lifestyle makes doing the things we enjoy possible. That said, Disney CAN be affordable if you know how to save, plan, and strategize. So whether you're saving for a Disney vacation, or soemthing else, follow my tips and tricks and be sure to share yours as well!!
I'm also proud to be a contributing columnist for "Parents Ask" , a brand ambassador for Tony's Pizza, a Purex Insider and a member of both the One2One Network and TheMom Bloggers Club
I ADORE my readers! I'd like to extend a HUGE thank you for all of your support, emails, comments and suggestions!
Be sure to sign up for our free daily deal wrap-up and also like us on Facebook. It's really the best way to ensure you're not missing out on any hot coupons, freebies or deals. You can also follow via RSS Feed or Twitter
My kids and I at my son's graduation from basic training!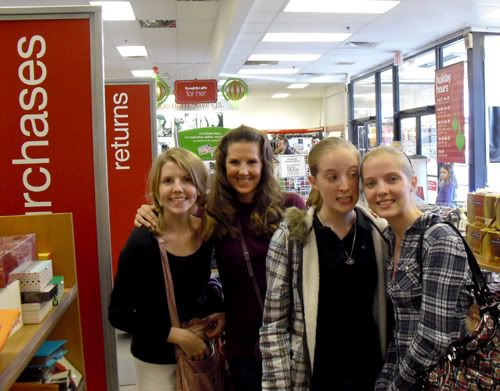 Black Friday shopping with our girls! By ths time in, we had been going for about 7 hours on little to no sleep! We ♥ Black Friday!!
My sweet 13-year-old boy – He stole my heart the second I saw him at 5 weeks old and has been my loyal companion ever since.

This post may contain affiliate links.