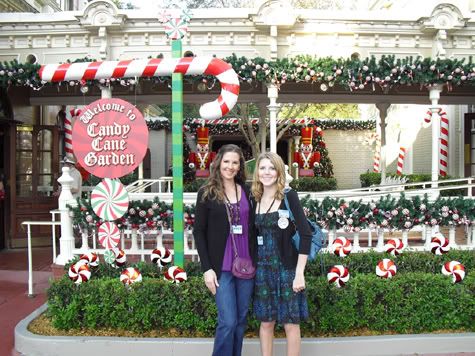 Click to enlarge – My daughter and I in front of Candy Cane Garden in The Magic Kingdom!
As promised, here is the plan for our upcoming Disney trip! For most of us, planning is half the fun. Countless hours spent on our favorite Disney forums, tweaking the itinerary a hundred times, making dining reservations, etc…  – But since this trip was literally thrown together just a couple of weeks ago, I decided to not stress and just "go with it". We'll be celebrating my husband coming home from overseas…for GOOD. He's been abroad for almost 10 years, so I decided to keep this trip as laid back and relaxing as possible. We're only going to the parks 4 out of 9 days and have a few days with no plans at all! I have some ideas listed below, but they can change depending on how we feel.
For those who have been asking, cast member discounts can change almost daily depending on what's available and blackout dates. Room discounts can be as much as 70% off, the dining plan is highly discounted, and you get (6) sets of tickets to give away. The tickets are hoppers and each one can get up to (3) people in for free. The deal my daughter got us was UH-MAZING! See below for how I paid for it. Here's the plan:
December 6 –
Check-in at Coronado Springs and relax. We'll be checking in late, so the most we'll do is explore the resort and grab dinner from the food court, which is my second favorite food court on Disney property (Port Orleans Riverside is the first).
December 7 –
If my daughter works (she won't know schedule until two weeks prior), we'll be heading to Animal Kingdom to see her. After that, I'm eager to get to Downtown Disney. I've been dreaming about craving the Holiday Sandwich at Earl of Sandwich, so this will be stop number one! Mickey's Pantry will be the next, which is my favorite store on Disney property (a kitchen store, of course). Walking around DTD is one of our favorite things to do.  The atmosphere is so much fun and we find that there's always something new going on. Depending on how we feel, I'd like to hop to Hollywood Studios to see the Osborne Spectacle of Lights ~
December 8 –
My daughter also hooked up my sister's family, so they'll be coming up early to spend the weekend with us. Since Epcot is their favorite park, we'll be headed there with lunch at Via Napoli…a must-do on every trip.
December 9 –
No plans. We'll probably just relax and hang out with my sister and her family before they leave. I may see if they want to go to back to Downtown Disney. My sister has never eaten at Earl's and she would LOVE the Holiday Sandwich…and I'll get to have another one HA! They'll probably head home by late afternoon, so I made a dinner reservation for my hubby and I at Yachtsman's Steakhouse…YUM!
December 10 –
No plans. Sleep in and then go to Kona for a late breakfast. This was originally our Epcot day but since we're going Saturday with my sister, this is another free day! If the weather is nice, we may rent a pontoon boat and explore. I've also been wanting to try the Territory Lounge at Wilderness Lodge, so we will probably wind up there at some point. Good beer, sharp cheddar beer fondue and house-made chips with dips…um, yes please 🙂
December 11 –
Off to Magic Kingdom with lunch at Be Our Guest and dinner at Liberty Tree Tavern. You can't go to Disney World during the holidays without spending at least one day at Magic Kingdom. The decorations here are my favorite, hands down.
December 12 –
No plans other than Artist Point for dinner.
December 13 –
Back to Animal Kingdom to see our daughter with lunch reservations at Yak & Yeti.  My daughter just saw the Lion King show and raved about it, so we'll definitely be doing that. After AK, we're heading to the Boardwalk for dinner at Kouzzina.
December 14 –
Last day! I'd like to do a resort tour to see all of the holiday decorations. We LOVE doing this. Along the way, we ride the monorail, the boats, stop for snacks, and just do whatever we feel like. I'm a homemade chip connoisseur and am dying to try the pork nachos at Capt. Cook's inside the Polynesian, so this will definitely be one of our stops…and I can get a Lapu Lapu 😉
December 15 –
Heading to Palm Bay (my hometown) to see our family!!
We'll use any leftover quick service credits at the food court before heading out. You can make sandwich boxes to-go, and the sandwiches at both Coronado and Port Orleans are to-die-for (and huge). Usually this would be our lunch on the drive home but since my sister's house is only an hour away, we'll bring lunch for everyone!
As usual, we had money left over from our previous trip, and it went right back into the Disney fund. Between that, another $162.63 Ebates check (being sent Nov 15), and an unexpected refund check from State Farm, our trip is already paid for. Since this was a cast member reservation, I won't need to pay the balance until I check it, which is not usually how a package reservation works. However, it makes my life easier this time. I'll just take all of my checks to the bank before we leave and get large bills to pay off our balance when we check in. I also still have:
We'll use those on the drive, along with all the coupons and free snacks/drinks I'll bring from home. We travel cheap! As for spending, we just really don't spend a lot. I'm not at Disney to shop. Because I coupon so much, it's nice to get a break from shopping. Of course we like to look around and window shop, but we just don't buy much. We'll need spending money for boat rentals, drinks, and miscellaneous. We give ourselves a budget and never go over it.
We'll be posting LOTS of pics live from the parks again, so be sure you're following us on Facebook and getting our free daily newsletter – It's a great way to keep up with all of our posts, especially if you aren't on Facebook a lot!
Whew…that's it for now. Enjoy 😉