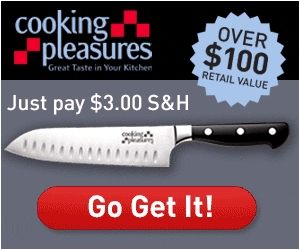 Now here's a deal every one of us need to grab for our gift stockpile!! Get a FREE Professional-Grade Ultimate Santoku Chef's Cooking Knife…all you pay is the shipping! Wha wha??!! Go here to grab this bad boy for just $3.00 shipped to your door! I grabbed one for my son's birthday. He has a new-found love for cooking and I have been grabbing deals like this to make him a "chef inspired" box 😉
The Ultimate Santoku Knife combines the best qualities of a cleaver with the versatility of a chef's knife. The combination makes it unbeatable for fast cutting, chopping, slicing and dicing.
Built to professional grade standards for high performance.
Long 7″ double-forged, stainless steel blade.
Ergonomic design means your hand easily wraps around the handle.
And here's what smart cooks like most — the dimples on the blade that prevent food from sticking!
Check out the Online Deals Page and Gift Ideas Page for more!