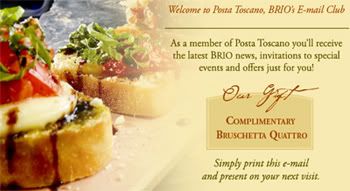 Sign up for the Brio Tuscan Grille Posta Toscana Newsletter and receive a coupon for a FREE Bruschetta Quattro appetizer. This is a sampling of all four of their housemade Bruschettas (a $14.50 value). My husband and I LOVE this restaurant and have had this appetizer many times. It is delicious! Click HERE to find a location near you.

This has been added to the Restaurant Coupons Page

This post may contain affiliate links.